The Best Pet Tech for Safety, Hygiene, and Entertainment
Lately, there's been some really cool pet tech available for our four-legged friends, and it's not surprising because pets can be viewed as very special members of the family. They have unique food that's different from everyone else's, their own designated spot in the house or yard, and even a dedicated groomer that also cleans up after them (that's you). It only makes sense then to have gadgets and pet tech to keep them safe, clean, and entertained.  
Protection for Everyone
Cats and dogs have cohabited and socialized with human beings for centuries providing mutual benefits. In exchange for food and cuddles, they protect our homes from all sorts of intruders like rodents and burglars. 21st-century pets have gadgets to assist them in this very important duty, and there are also ways to help us keep our special friends extra safe.
That convenient opening at the bottom of the door is ideal for giving your small dog or cat access in and out of the house. Unfortunately, it's also perfect for every other small creature. SureFlap adds an extra level of safety to your home by utilizing a microchip-activated flap, restricting access to allow only your pets in and out of the house. It registers up to 32 different microchips and has a curfew mode that essentially locks the flap from the outside at the registered time to allow the pet in but not out again. 
If you like to take your fur baby everywhere you go, chances are you want to do so safely. And even if your pet doesn't travel frequently, a regular trip to the vet or groomer should also be a safe one. Pet on Wheels (POW) is a travel box designed to keep pets safe while traveling on a  motorcycle, scooter, bicycle, or car. Your pet remains comfortable and protected from the elements, plus they can look out the little window safely and not distract the driver.
So Fresh, So Clean
One of the main things to consider before adding a four-legged member to the family is who is going to be responsible for cleaning the pet and cleaning up after it. Most of the time, it ends up being everyone's duty because someone doesn't stick to their end of the bargain. Don't worry, there's pet tech to minimize the squabble around keeping things clean.
It's not always a problem getting your pet clean, the trouble often starts when it's time for them to get dry. Normal blow dryers can be a little loud and intimidating, but with the Drybo Plus, your pet can get warm and dry in a cozy way. It distributes and circulates warm air in the chamber to dry cats or dogs with minimal effort, and you can control the temperature, airflow speed, and drying time all from an app on your smartphone. And because all of the drying happens in a closed chamber, there's less fur to clean up around the house after each bath.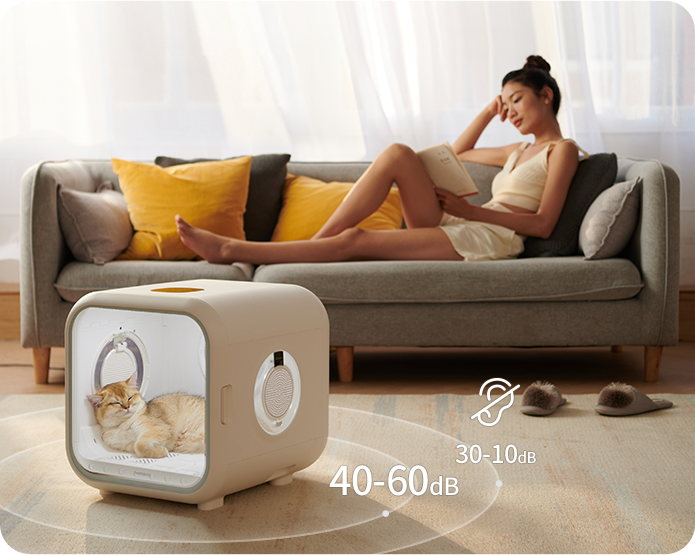 The best part about owning a cat is that they can basically even clean up after themselves by using a litter box. The downside is that litter boxes have a really unpleasant smell, and you'll still have to manually clean them often if you don't want that smell in the house. The Litter-Robot is an automated self-cleaning litter box that has a carbon filter to drastically reduce odor. It connects to the Wifi in order to send you notifications about its status, and it can accommodate up to four cats, eliminating the need for multiple litter boxes.
Solo Play Date
Mental and physical stimulation is a requirement for humans and pets, and while we can get enough of both from apps on our smartphones, it's not always so black and white for our pets. Luckily, there are gadgets designed to satisfy the mental and physical activity needs of our pets.
Your pet will be entertained for as long as its little body will allow, and you won't even have to lift a finger. iFetch is easy to use and gives your pet the ability to play fetch all by themselves,  helping to keep their mind and body healthy. The dog simply places the ball in one end, and the iFetch launches it up to 30 feet away for small dogs, and up to 40 feet for medium to large dogs.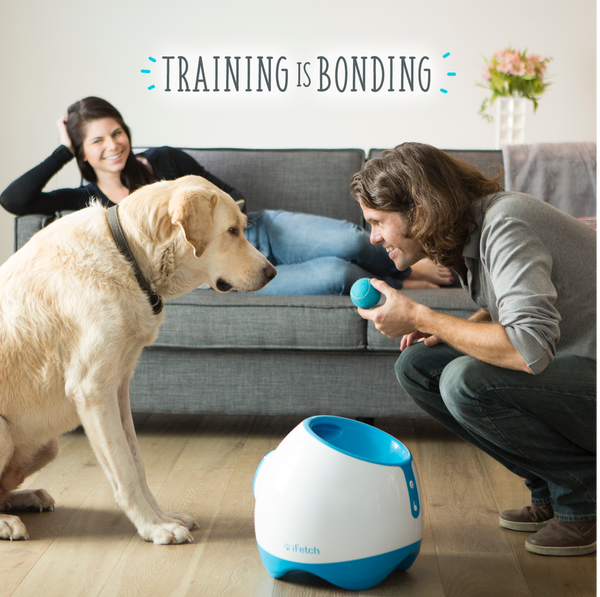 This egg-shaped treat-releasing toy is sturdy and straightforward enough for your dog to carry to their favorite corner for a private decoding session. They won't be able to get the treats out until the TikR releases them, but they will spend a very long time biting, pushing, and prodding the toy to try. The release of treats is controlled by a timer that the pet owner needs to twist to activate, so there's no way for the dog to cheat the system.
The List Goes On
Depending on where you live and how much room there is to share with your pet, you may require a pet tech that's a little more suited to your needs. Pets that have the freedom to roam may need a GPS-enabled tracker that lets their owner locate them easily from an app, and pets that stay indoors most of the time could do with grooming gear that helps keep the house free of pet hair. Connect with us and share your favorite pet tech with the Heyup community.